Lauren Stone - Studio Manager
Lauren grew up in Monument Colorado and attended college at the University of Denver. She has a background in HR but found her way into the fitness industry after her first daughter was born. Lauren has over 7 years of fitness experience as an AFAA certified personal trainer. A significant part of her experience includes owning and operating a Fit4Mom franchise where she enjoyed building community and teaching stroller bootcamps. As an avid runner, Lauren found pilates as a way to strengthen her core after her third daughter was born and reduce the high impact activity on her body. Lauren loved the work out so much she decided to become Lagree Fitness certified so she could share it with others. Lauren brings her high energy bootcamp style of teaching into her Lagree fitness classes.Lauren is passionate about helping her clients achieve their personal and fitness goals. She wholeheartedly believes that the strength you build on the reformer translates into strength for the challenges of our everyday lives. In her free time Lauren enjoys being a Colorado girl. You will find her running, hiking, cycling, skiing or taking a yoga class.

Maria is a Colorado native, born and raised in Littleton. She moved on to California after high school to attend the University of San Diego. Post-grad, she spent a summer working for the San Diego Padres on "Pad Squad", aka she was a professional t-shirt thrower during baseball
games. She then followed her love of warm-weather and the ocean to Maui, Hawaii where she spent 5 years as a Wedding and Event Planner.

Family-ties brought her back to Colorado, and she is enjoying being back in her hometown. Maria was a multi-sport athlete growing up, and continued her love of fitness and exercise through her adulthood. She was introduced to Lagree in Maui from a dear friend, and was immediately hooked. The workout was killer, and the community was so supportive and
fun. Her other loves include her puppy, happy hour, and spending time with good-vibing people.
Lindsey has been teaching Lagree fitness for over five years and has had the pleasure of being trained by Sebastian Lagree himself on more than one occasion. "You never forget a class taught by Sebastian!! It's a pretty intense experience "
Her appreciation for physical fitness can be traced back to her days competing in gymnastics, volleyball, and performing with a hip-hop dance crew. All of these experiences have made her the trainer she is today! 
"As an instructor, I care most about creating a fun and energetic atmosphere where people can get a killer workout and leave with new friends".
Katrina has been active in sports and anything to do with outdoors since her youth. She has recently started SUPing in her journey to always have fun and enjoy the outdoors. She has been with the Southglenn team since opening their doors in 2013. Katrina was hooked from her 1st class and was amazed at how awesome and challenging this workout is. Since beginning with us she has had 2 beautiful baby girls and feels with her back ground as a Physical Therapist Assistant she can help you achieve your fitness goals.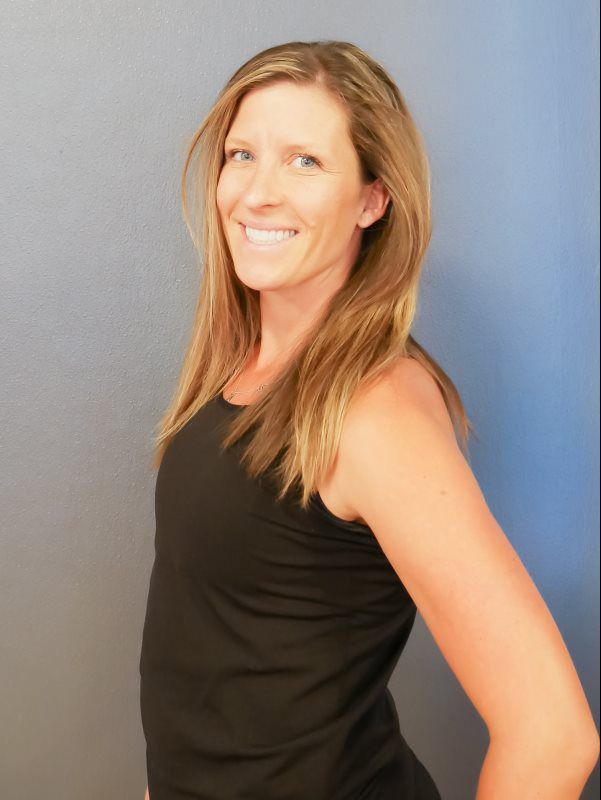 Hi my name is Amanda Parrott! I'm a fitness fanatic, former collegiate volleyball and soccer player, and professional Uber driver for my children.

I have 2 kiddos 7 & 10 that keep me on my toes! I love everything active and outdoors.

My passion is exercise and the impact it has on mental and physical health.
Alyssa is originally from Rochester, New York and moved to Denver in 2017. She started dancing at a young age and continued dancing throughout college, even minoring in dance at Ithaca College where she graduated in 2010. Fitness has always been an extremely important part of Alyssa's life, and especially fitness classes. It wasn't until she moved to Denver where she discovered Lagree, and like everybody else became addicted to this challenging, effective, and FUN workout. In 2019, Alyssa was taking at least 4-5 classes a week, and it became clear that she needed to get her Lagree certification. She has the best time creating playlists that will make this extremely tough workout manageable and the most enjoyable for everybody! When she isn't at Pilates Evolution Southglenn, she is a 2nd grade teacher in Denver Public Schools. Alyssa is also a part of a couple of different dance companies around Denver. In her spare time she loves being outdoors whether that is hiking, skiing, paddle boarding, or camping in the summertime!
Originally from Colorado, Brooke moved around from Kansas to Chicago to California until finally landing back home. Having battled autoimmune issues the majority of her life, Brooke turned towards movement to help herself heal and she completed her 200 hr RYT and RockIt Body Pilates certifications while living in LA.

She is a nerd for anatomy, has found a recent obsession with pre and post natal movement and prides herself in making class challenging yet accessible. 
When she's not teaching you can find her doing anything that involves the outdoors, petting every puppy she passes and busting out the awkward t-rex on the dance floor.

Southglenn
Studio

7448 S University BlvD, Centennial, CO 80122



7448 S University Blvd, Centennial, CO 80122

303.377.0982 |

pilatesevolution@gmail.com
STUDIO HOURS
Mon - Fri | 6AM - 7PM
Sat - Sun | 8AM - 11AM